Established on the shores of Lake Bafa, this open-air museum bearing traces of the Prehistoric Period always fascinates visitors.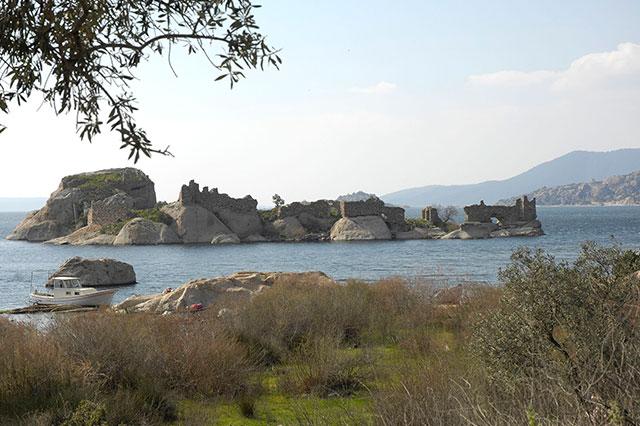 The ancient city of Heraklia is reached by turning from Çamiçi Village at the end of the lake in the direction of Bodrum and by a 9 km asphalt road. The village school has a plan for the city, check it out. The appearance of the amorphous shaped rocks in the surrounding area is interesting. The road reaches Kapıkıpı Village. Before entering the village, the road leading down to the lake shore splits. Village tourism is an amateur guide for all young people from the newly discovered places. They organize tours to the ruins on the mountain accompanied by donkeys. During the 5-6 hour journey, they tour the ancient theater ruins, the place they call the "Arab Courtyard" near the village of Karpuzlu. They also speak good German and English. Heraklia, which was built in the stands of Helen, had a regular plan. It should be examined especially in terms of city defense, wall techniques and solid towers. The plane where the primary school is located is the multi-storey Hellenistic agora. The Temple of Athena, located in a house courtyard to the east of the Agora, was easily identified from the marble inscription. The bouleuterion located in a house courtyard to the east of the Agora, the Endymion Altar, a rough structure seen descending to the lake shore, and the theater on the upper slopes are the important structures of the city scattered among the olive trees and gneiss rocks.

The roads leading to Beşparmak Mountain, pavements, both the upper castle defense systems and the advanced Christian monuments scattered around the lake and on the islets in the 10-13th century, such as Cappadocia, take the travelers to discoveries, provided that they make use of local guides.

The known history of Heraklia dates back to the 7th century BC. The city, which shines in the Hellenistic and Roman periods, was enriched by maritime trade. It was also a bishopric center during the Byzantine period. The Endymion Sanctuary was also considered sacred during the Christian era.

Endymion has an interesting mythological story. The Moon Goddess Selene saw the shepherd Endymion sleeping here one night, and the house fell in love with her. Zeus cut off Selene's love and angrily punished the young shepherd. He condemned the shepherd to never wake up, to sleep in an eternal sleep of youth. After that day, Endymion fell asleep on the spot. without ever waking up. While she was dreaming in her deep sleep, the moon goddess Selene would come and lie next to her every night. Thus, Selene gave birth to 50 children to Endymion.


How to get to Lake Bafa – Heraklia
Those who go to Milas-Bodrum from Söke pass by the shore of Lake Bafa. You can get off at Bafa Lake and take the Heraklia minibuses. The village road takes 15 minutes.