The word Dydima means twin sister. Like the temple belonging to Apollo, a large temple was built in Ephesus for his sister Artemis, and this temple is now one of the 7 wonders of the world.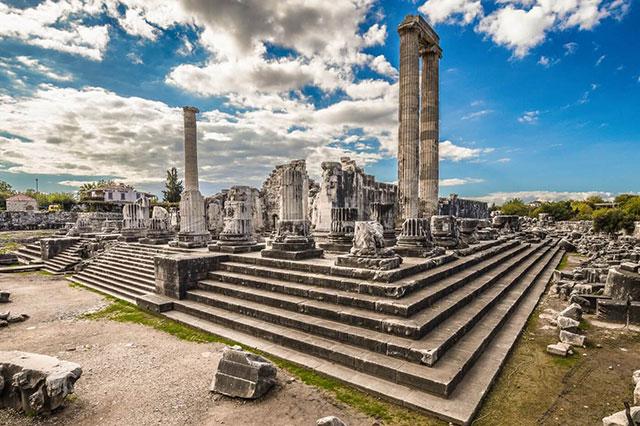 The Temple of Apollo, located 3.8 kilometers north of Altinkum on the coast of Didim, in the direction of Atatürk Boulevard, is one of the most visited historical structures in Aydın.

The Temple of Apollo, built as the sanctuary of the Ancient City of Miletus in Balat, is located 18 kilometers south of the city. The Temple of Apollo, which is connected to the Didim district of Aydın, is one of the largest and oldest temples built for Apollo, the sons of Zeus and Leto in mythology, the twin brother of the moon goddess Artemis, the god of music, art and the sun. The Temple of Apollo is the third largest temple in ancient Greek civilizations, after the Temple of Artemis in Ephesus and the Temple of Hera on the island of Samos.

According to the legend, Apollo came across a shepherd man. Apollo, who loves the shepherd named Brankhos very much, teaches him the secrets of prophecy. The descendants of Brankhos are called Brankhids. The Temple of Apollo becomes one of the most important prophecy centers of antiquity.

From the ancient city of Miletus, the temple was reached by a sacred road, around which statues of Brankhid descendants, who were the rulers of the Temple of Apollo, were erected. The temple, which witnessed many wars and destruction, took its present form with the help of Alexander the Great. The architects of the temple, which measures 110 x 50 meters, are Daphnis of Miletus and Paionios of Ephesus, who was also the architect of the Temple of Artemis in Ephesus.

The magnificence of the 25-meter-high Temple of Apollo, located at the entrance of Didim, is eye-catching despite the fact that a few columns are still standing. It is easier to understand by comparing the people you see during your visit to the columns that it is a much larger structure than the perception in the photographs.


What are the Didim Apollon Temple entrance fees and visiting hours?
Didim Ruins opens at 08:30 in summer and winter, but stays open until 19:00 in summer and until 17:00 in winter. The entrance fee to the temple is 10 TL, the Museum Card is valid. Visitors with a Muesumcard can enter for free.
Where is Didim Apollon Temple and how to get there?
The Temple of Apollo is located in Aydın, Didim. It is located in Yenihisar Village, on the way to Altınkum.