This national park, which is one of the best preserved natural areas of Turkey, is a peaceful natural wonder with its 4 different coves and a canyon that provides a good trekking area.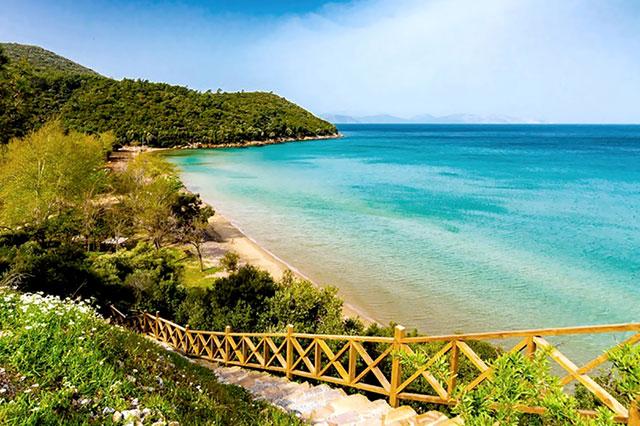 After passing Davutlar and Güzelçamlı, the most beautiful natural area of ​​the region is reached. Dilek Peninsula natural area of ​​10,995 hectares was declared a National Park in 1966. You can enter the National Park, which includes Dilek Burnu and its surroundings, between 07:00 and 20:00. You can spend a whole day. Driving along the main road after the entrance. At the 1st km, you will see the İçmeler Bay sign to the right. A beautiful bay in the shade of the trees. Icmeler Aydınlık Bay (5. km) attracts attention with its beautiful beaches, Kavaklıburun (7. km) with plane trees, Aydınlık Beach (11 km) with its beautiful beach. You can find facilities to meet your daily needs, picnic tables and stoves in the bays. If you are not one of those who lie by the sea, take a look at the pleasure of walking in the National Park, through the paths among the dense woods, towards the hills.

The canyon and Dikkaya Valley at 6 km are a good trekking track with its small streams, dense vegetation and paths. The highest point of the National Park is Dilek Hill at 1237 meters. The mountainous terrain is divided by canyons, valleys. You can see almost all types of Mediterranean vegetation together. The vegetation of the northern part is particularly rich. Besides the laurel and chestnut belts, you will also see linden trees due to the high humidity.

With this feature, the vegetation resembling the Black Sea is surprising. This is the only place where viburnum trees, Finike juniper community, holly oak and branch cypress grow in very few places in your country. The richness of the vegetation also brings richness for animal species. There are mammals such as Anatolian leopard, wild ox, wild boar, lynx, fox, marten, jackal, wolf, wild moon and rabbit in the National Park, as well as birds of prey such as eagles, hawks, hawks, and vultures that are endangered. The sea offers many varieties of fish.

If you are thinking of going to the ladar in the National Park, you should try it with a guide who knows the region. Or you should join the "Safari Tours" in which the travel agencies in Kuşadası are organized by jeeps.